Keeping a small balcony apartment clean can be a satisfying thing to do. When your living space is spotless and tasteful, you get peace of mind and can have a better mental focus on other activities around the house.
Related: How to Clean Balco­ny Floor Without Water: 8 Working Tips
Often, tidying requires acquiring a new set of cleaning supplies. You, therefore, need to consider maximizing the little space you have to keep everything organized. Next, we are going to cover the following smart solutions to limited storage space dilemmas:
Buy multipurpose pack
Roll multiple layer cart
Buy a bathroom caddy
Install shelf risers
Suspend with tension rods
Make use of plastic shoe holder
Ditch cleaning supplies
Try pegboard
Cleaning supplies organization ideas for small apartments
1. Buy multipurpose pack
First, we'd like to consider buying products and tools with more than one usage to increase storage efficiency.
You want to ensure that your cleaning solution is versatile, has multiple uses, and can tackle varying stains.
Your balcony apartment probably has a balcony table, a barbecue grill, a small refrigerator, and some cabinets or shelves. But that doesn't mean you should buy separate cleaners for every different mess you deal with.
Discover: How to Clean Balcony Without Drain (5 Floor Cleaning Ideas)
It doesn't make sense to house different solutions that serve you almost the same way. 
Try to find all-around cleaners, products, and tools that can do most cleaning jobs and actions, so you have fewer storage worries.
If you have a mop and a broom, substitute them with a flathead mop. Flathead mops can be used wet or dry to sweep away dust and swab the floor with water.
A free-standing mop and closet are ideal for putting heavy-duty cleaning supplies out of sight in the kitchen or bathroom. 
An alternative to store a flathead mob would be the area between the fridge and the wall.
Likewise, scrub brushes and small vacuums can handle various cleaning tasks. So, you want to consider them first over single-purpose ones.
Another pro tip is to have multipurpose furniture.
The advantage is that you have extra floor space to put to other uses like storage.
You can use bunk or loft beds and folding tables for this purpose.
2. Roll multiple layer cart
Rolling carts are a superb technique to use in place of cleaning cupboards.
With multiple layers, you can store supplies in any system you like – by type or product or by each room you have in your apartment. 
That's not all.
If guests pop in, you can move them out of the way to a more convenient site without causing any distractions to movement.
Also, while cleaning rooms, you can roll the cart around and use specific products you wish without walking back and forth to get each item.
Now, if it's impossible to store a cart in your apartment, you can utilize buckets or baskets. 
Each time you invest in transforming the buckets, they become more stylish and disguised.
3. Store under your bed or furniture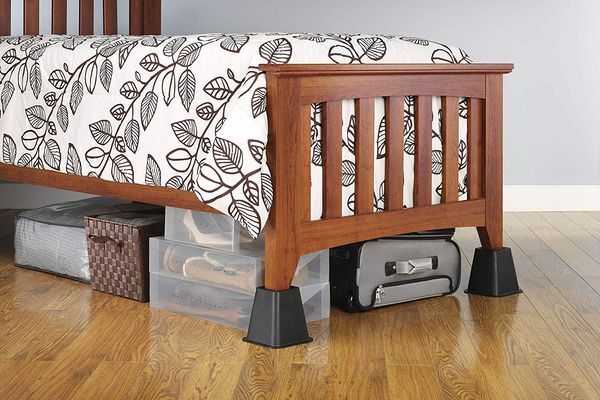 The areas under your bed and furniture provide additional pockets of space.
You need to utilize them if you haven't!
Just use a set of bed risers to keep the bed elevated high enough to stash soap or detergent buckets and labeled containers.
The same idea can apply to couches that have some room underneath them. 
Sofas resting on risers are better since you can slide storage racks and keep them hidden.
4. Buy a bathroom caddy and over-the-toilet shelves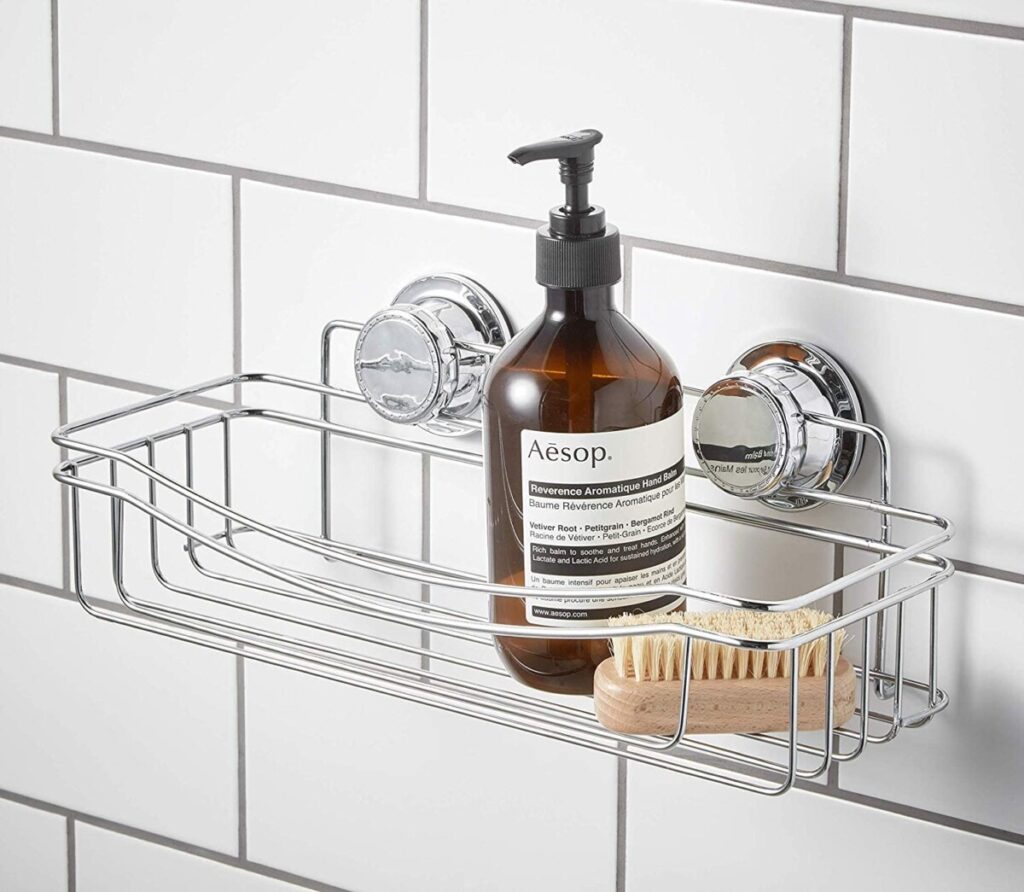 If you consider your dwelling tiny, it's time to head over to the stores and get a cleaning caddy for yourself.
You can implement a caddy system underneath the sink or inside a closet, filling it with bathroom cleaner bottles and other cleaning sprays.
Apart from large equipment like a vacuum, broom, and mop, any other item that does not find room in the caddy should be done away with.
Toilet space can be tiny.
But installing an over-the-toilet shelf storage system could be the solution you need to create precious space. 
You can fill this hang-up storage with cleaning rags, duster, sponges, or anything you might use.
5. Install shelf risers
As we have discussed, sometimes you need to double the existing storage if conditions allow.
And by this, I mean using risers like bed and couch risers in the previous section.
We can extend the same idea to shelves.
Try and see if you can create more room for your cleaning kit by having them on the kitchen counter and cabinet. 
You can also apply your skills and creativity by putting one on the window sill to create extra space.
6. Suspend with tension rods
Who said we could not tie tension rods in under-sink areas?
The kitchen sink has a decent amount of space underneath for most studio apartments and small home units. 
This is a perfect area for organized storage.
Tension rods come in handy when you think of maximizing your square footage instead of piling cleaners. 
Every inch of space you can spare counts. So tension rods are ideal for suspending cleaning towels, dishcloths, and spray by their nozzle, providing room for the mop bucket and recycling bin.
Some apartment kitchen cabinets have a rotating tray called Lazy Susan. 
Traditionally, this round tray is used to store canned food.
However, in your case, the tray provides a great spot for stashing storage boxes for sponges and gloves.
7. Make use of plastic shoe holder
This one might surprise you, but your plastic over-the-door shoe holder is more useful than just hanging your handmade Italian boots or gothic platform sandals. 
It can be used as a cleaning supplies storage system too!
Fit it on the back of a closet or bathroom door, and your bottled supplies and tools will have a newfound hanging slot.
Think of other items around you the same way, and let your creative juices flow.
You'll be amazed at how fast ideas crop up in your head.
8. Try pegboard
Having an eye for fashionable things can lead us to fill our space with items we adore.
It's fine to have a collection of these objects that bring you joy if you're not a minimalist.
A pegboard can be a cheap and stylish way of suspending cleaning supplies.  
Hang your products on the pegs, and you're sorted. 
You can attach baskets and buckets to the pegboard wall for additional storage.
9. Toss cleaning supplies
In most households, a set of mugs, packs of magazines, and piles of the sock become antiquated after some time and thus require decluttering.
Similarly, you will need to dejunk your cleaning kit.
If your tab cleaner has been unused for 2 years, it's time to toss it.
A window cleaner with a broken nozzle belongs to the recycling bin. 
And if your toddler is sensitive to that old feather duster, please consider donating it.  
Cleaning chemicals have a "best before" date, after which they expire and become ineffective.
If these products no longer work, don't let them take up valuable storage space. 
Please get rid of them!
Stock up on essentials only.
Use your cleaner space wisely!
We dream of an organized, clean closet.
Finding the right dedicated place to keep everything in small spaces is far from reality.
With most of us living in small balcony apartments, a creative storage solution is essential.
Spring into action with the ideas shared here, and your dish soap refill packets or carpet cleaner will surely find the right storage spot.